The ecoinvent centre provide consistent and comprehensive geodata for the locations used in the ecoinvent database. This document describes how these location geometries are created and processed, and gives details on particular locations that may be confusing.
Location data in ecoinvent is used to locate inventory processes in space, define and construct market and market inputs, and for various forms of regionalized life cycle inventory analysis and impact assessment.
Neither the EcoSpold 2 data format, nor its authors, take any position on geographical areas of controversy. The geographical shapes presented in the EcoSpold 2 data files should not be taken as absolute definitions of country or region borders. Rather, they are approximations consistent with common understanding of these countries and regions, for use in a life cycle inventory database. If subjective judgments have to be made, we have made choices based on our understanding of what would be best for clear and understandable life cycle inventories. If you find a error or discrepancy in the base data file, please let us know by filing a bug.
The official ecospold2 format for specifying geographies is a single XML file, with location geodata included in the KML format inside the XML file. The official geographies file is here:
However, this format is not easy to work with for most programming languages or GIS programs. The location data and metadata are also available in a number of GIS formats. Selections of the location data are also provided, as a single file containing all regions can be a bit unwieldy.
| Description | | | | |
| --- | --- | --- | --- | --- |
| All locations | | | | |
| Countries | | | | |
| All ecoinvent except for countries | | | | |
| UN regions | | | | |
| UN subregions | | | | |
| Electricity networks | | | | |
| Legacy Electricity networks | | | | |
| Electricity networks (USA only) | | | | |
| Aluminium-producing regions | | | | |
| Europe/Asia | | | | |
| Russia | | | | |
| Ecoinvent special | | | | |
| Provinces and states | | | | |
The primary data source for the ecoinvent geodata is the Natural Earth data, and in particular the 1:10 million cultural vectors, including boundary lakes, both Admin 0 – Countries and Admin 1 – States, Provinces. In addition to Natural Earth, custom geometries were drawn for NERC regions in the United States of America which split individual states.
Processing begins by entering all state/province level regions into a PostGIS topological database. A topology is different from a normal geometry because it tries to store only one copy of each face edge and node, and a state or province would be defined by which common edges it bordered. For example, the boundary between France and Germany would be stored only once, and the topology of both France and Germany would reference that border. Topology is a rather complex subject which is not explained in detail here; interested readers should go through this presentation by Sandro Santilli. The use of topologies give several nice advantages:
Consistency: Each border is only defined once. Modifications to border edges apply to all affected regions automatically.

Integrity: All regions are automatically valid.

Explicit relationships: It is fast and simple to determine spatial relationships among regions by comparing their topological faces. There is no potential for floating-point errors, as no geometry math is needed.
You can download the current set of topological faces used in Ecoinvent here.
After state/province-level data is imported, country data is imported. Country borders are automatically snapped to province borders by the database. A series of data cleaning steps is then applied. Specifically, the following is done:
Provinces with self-intersecting borders are fiexed using ST_MakeValid

Minor islands which are included in province-level data but not included in country-level data are added to the country geometries

Republic of Serbia is changed to Serbia

Svalbard and Jan Mayen and Bouvet Island geometries are removed from Norway; they have separate ISO codes

Cyprus No Mans Area geometry is removed from Cyprus; Cyprus No Mans Area is a separate location

Tokelau geometry is removed from New Zealand; Tokelau has a separate ISO code

Baikonur cosmodrone is reassigned from Russia to Kazakhstan

Netherlands is redefined to not include its Caribbean islands, which have their own ISO code

France is redefined to not include territories which have their own ISO codes (See France)

Kosovo is given the provisional ISO code XK.

The Mandarin names of the Chinese provinces Heilongjiang and Qinghai are corrected.

Democratic Republic of the Congo is changed to Congo, Democratic Republic of the

Republic of Congo is changed to Congo

Federated States of Micronesia is changed to Micronesia, Federated States of

United Republic of Tanzania is changed to Tanzania

The Indian state named Uttaranchal is corrected from Uttarakhand.
In addition, the United States of America is split into the regional transmission grids, whose borders do not follow state borders.
The basic topological units in the database are usually state/province-level regions, as in this visualization of Madagascar: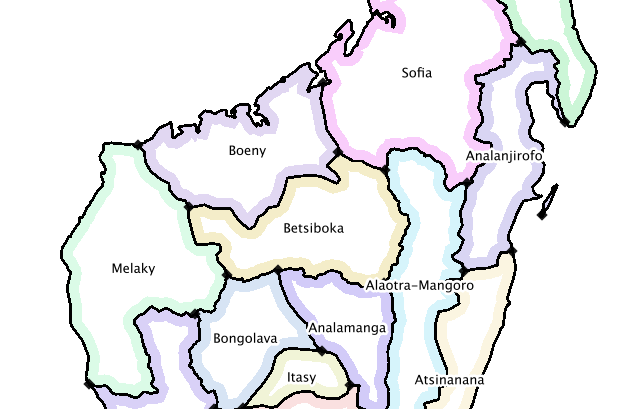 However, in some regions states are broken up, as in this visualization of the combination of NERC regions and state boundaries in the United States of America:
Ecoinvent regions are defined constructively, i.e. they are built up by adding together their smallest constituent units. Intersection or difference functions are not used, as they can lead to floating-point errors and small geometrical artifacts.
After a consistent topology is constructed, the regions used in ecoinvent are extracted. For example, ecoinvent provides Australian states, so these are added individually; however, state-level data in most other countries are not used, so only the country borders are extracted. The final ecoinvent topology of the world looks like this:
The input data and scripts to process, combine, and export all location data, as well as this manual, are open source and freely available for download.
Some images are large, and can be opened in a separate tab to be seen in full detail.
The Global dataset does not have a KML description.
The Rest of the world dataset is a dynamic concept that exists in the situation when both a global dataset and one or more non-global datasets are available for the same activity, time period, and macro-economic scenario. The definitions is specific to each activity and depends on what defined geographies are available for the specific activity name. It is defined as the difference between the global reference dataset and the datasets with defined geographies. The "rest of world" dataset does not have a set KML description.
UN regions and subregions follow the UN macro geographical regions definitions.
Note
Taiwan is included in the UN region Asia and the UN subregion Eastern Asia, even though it is not officially listed in the UN definitions.
The UN subregion Latin America and the Caribbean, not shown, includes the Caribbean, and Central and South America.
The following locations are given:
Europe (short name RER)

Asia (short name RAS)

Europe, UN Region (short name UN-EUROPE)

Asia, UN Region (short name UN-ASIA)
We differentiate between the UN definitions of Europe and Asia (which are constrained to including or excluding entire countries), and the common understanding of the border between Europe and Asia. There is no clear line dividing Europe and Asia. The UN regions are defined following the UN macro geographical regions. Russia is split by federal subjects, with the following federal subjects in Europe:
| | | | |
| --- | --- | --- | --- |
| Adygey | Arkhangel'sk | Astrakhan' | Bashkortostan |
| Belgorod | Bryansk | Chechnya | Chuvash |
| City of St. Petersburg | Dagestan | Ingush | Ivanovo |
| Kabardin-Balkar | Kaliningrad | Kalmyk | Kaluga |
| Karachay-Cherkess | Karelia | Kirov | Komi |
| Kostroma | Krasnodar | Kursk | Leningrad |
| Lipetsk | Mariy-El | Mordovia | Moskovsskaya |
| Moskva | Murmansk | Nenets | Nizhegorod |
| North Ossetia | Novgorod | Orel | Orenburg |
| Penza | Perm' | Pskov | Rostov |
| Ryazan' | Samara | Saratov | Smolensk |
| Stavropol' | Tambov | Tatarstan | Tula |
| Tver' | Udmurt | Ul'yanovsk | Vladimir |
| Volgograd | Vologda | Voronezh | Yaroslavl' |
The following Russian federal subjects are in Asia:
| | | | |
| --- | --- | --- | --- |
| Altay | Amur | Buryat | Chelyabinsk |
| Chita | Chukchi Autonomous Okrug | Gorno-Altay | Irkutsk |
| Kamchatka | Kemerovo | Khabarovsk | Khakass |
| Khanty-Mansiy | Krasnoyarsk | Kurgan | Maga Buryatdan |
| Novosibirsk | Omsk | Primor'ye | Sakha (Yakutia) |
| Sakhalin | Sverdlovsk | Tomsk | Tuva |
| Tyumen' | Yamal-Nenets | Yevrey | |
Note
The definition of Europe and Asia have changed in version 2.0, to match Russian federal subject borders. In version 1.0, Europe also included parts of Kazakhstan, Azerbaijan, Georgia, and Turkey - these countries are now completely inside Asia.
Note
Both Europe and Europe, UN Region include all of Spain, including the Canary Islands and a few small exclaves in Africa.
In addition to the country Russia, the regions Russia (Asia) and Russia (Europe) are given, following the federal subject boundaries given above.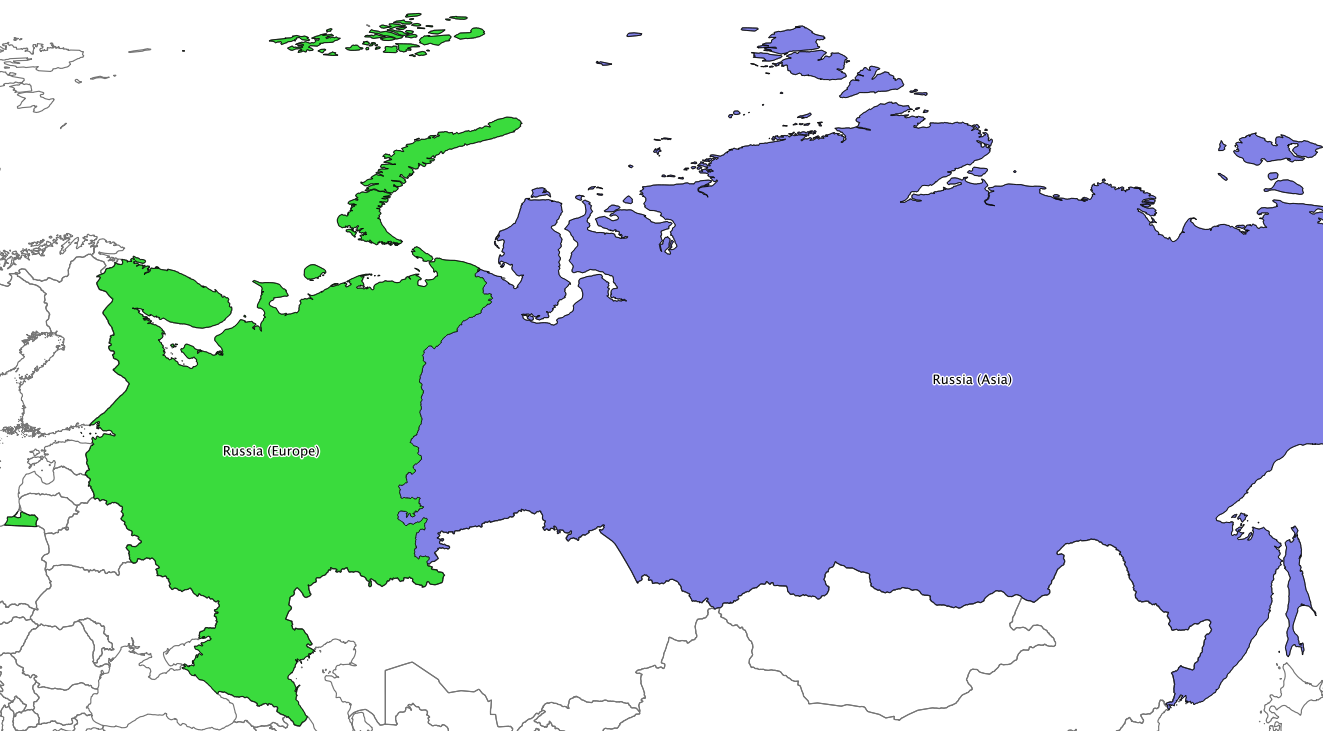 Aluminium is not produced in every country in the world, and the following producing regions are given:
IAI producing Area 1, Africa

IAI producing Area 2, North America

IAI producing Area 2, North America, without Quebec

IAI producing Area 3, South America

IAI producing Area 4 and 5, South and East Asia, without China

Aluminium producing area, EU27 and EFTA countries

Aluminium producing area, Europe outside EU27 and EFTA

IAI producing Area 8, Gulf Region
Note that there is an overlap between IAI producing Area 2, North America and IAI producing Area 2, North America, without Quebec.
The following networks are in Europe and North America are provided:
European Network of Transmission Systems Operators for Electricity

Florida Reliability Coordinating Council

HICC

Midwest Reliability Organization

Northeast Power Coordinating Council

ReliabilityFirst Corporation

SERC Reliability Corporation

Southwest Power Pool

Texas Regional Entity

Western Electricity Coordinating Council

Alaska Systems Coordinating Council
Bouvet Island and Svalbard and Jan Mayen are distinct locations with ISO 3166-1 codes and are not included in Norway.
France is what is commonly called metropolitan France. It does not include the following locations which all have ISO 3166-1 codes:
French Guiana

French Polynesia

French Southern and Antarctic Lands

Guadeloupe

Martinique

Mayotte

New Caledonia

Réunion

Saint Barthélemy

Saint Martin

Saint Pierre and Miquelon

Wallis and Futuna
In addition, France does not include the uninhabited Clipperton Island, which is given as a separate location.
The location France, including overseas territories includes metropolitan France, as well as French Guiana, Guadeloupe, Martinique, Mayotte, and Réunion.
The country is called Micronesia, Federated States of. The UN subregion is called Micronesia.
Due to ongoing territorial disputes, the island of Cyprus is split into the following:
The location United States of America includes the 50 states and Washington D.C. The following are given as separate locations:
American Samoa

Guam

Northern Mariana Islands

Puerto Rico

United States Minor Outlying Islands

United States Virgin Islands